Our golf course, PGA Ocean's 4, successfully celebrated the 2nd edition of the Bahia Principe Open.
5/13/22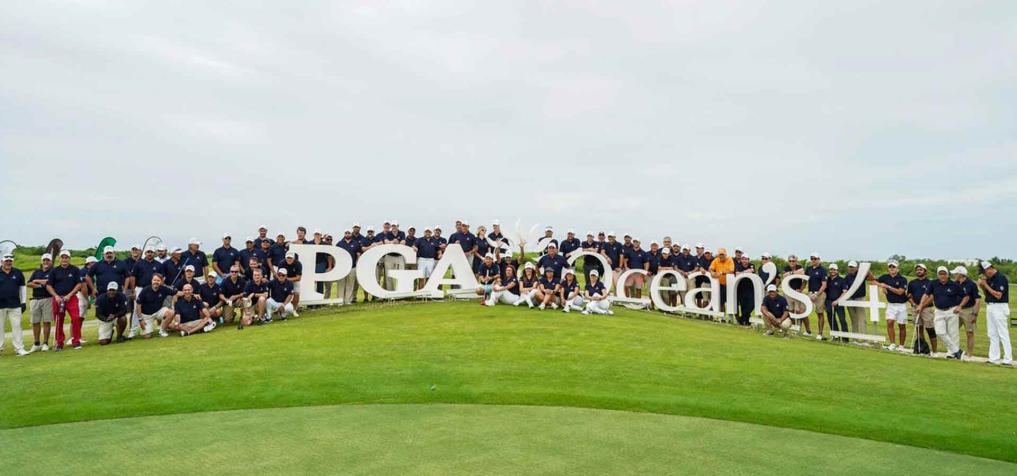 This 2nd. edition brought together more than 80 national and international players.

The prizes for the golfers were valued at USD$30,000.

This May 1st, 2022 our golf course, PGA Ocean's 4, successfully closed the 2nd. Bahia Principe Open Tournament with the participation of 85 national and international players.
The two-day competition, divided into 36 holes and in individual stableford mode, has been developed in two fantastic courses in the Dominican Republic; one of them is PGA Ocean's 4, located in the tourist residential Playa Nueva Romana, characterized by its entertaining course and its 4 holes bathed by the Caribbean Sea. The other course is the well-known Dye Fore in Casa de Campo.
On this occasion, as part of our social responsibility program during the tournament, we carried out a charity activity to raise funds for children. ¨For us, it is very important to contribute to social causes through our business units, therefore, we are very motivated to contribute our grain of sand to sponsor the development of low-income children so that they can develop in sports, and perhaps, tomorrow, become great athletes¨ said Jesús Durán, CEO of Grupo Piñero in the Dominican Republic when welcoming the players.
During the awards cocktail, Jaime Sitjar, COO of the Residences & Golf division of Grupo Piñero, "thanked all the players for their participation in the event and announced the implementation of an investment plan in PGA Ocean's 4, which includes the renovation of the golf cart fleet, already carried out; the extension of the Club House and the improvement of the standards of the golf course with the aim of positioning it as one of the best in the Caribbean".
The awards ceremony was held at a gala dinner organized to entertain the players, who were awarded numerous prizes and trophies valued at more than USD$30,000 and was also attended by various authorities, businessmen and executives from Grupo Piñero.
The winners of this competition were:
Absolute scratch champion: Rafael García, 43 pts.
Category 1: Absolute Champion: Alec Valenzuela (40+14) = 54 pts; Absolute runner-up; Mario Roldán (41+13) = 54 pts; Third classified: Raúl Parra 52 pts.
Category 2: Absolute runner-up: Juanma Muñoz 53 pts; Overall runner-up: Jonathan Zapata Roldan (35+13) = 48 pts; Third place: Elizabeth Pérez ( 3 6 + 1 2 ) 4 8
We appreciate the support of our sponsors and collaborating brands that made this great experience possible: Bahia Principe Hotels & Resorts, Playa Nueva Romana, Coming2, CEPM, Evergo Emobility, Banreservas, Ron Barceló, Jl Graphics, Green Garden, Disbalca, G&G Promo, JM Tavarez , Aguas El Edén, Heineken, Ballantines, United Brands, Enterex, Ontol Gel, Fosfo B-12, Marti Derm, Aperol Spritz, Club Car, Only Water, La Aurora Cigars, Red ATM Triinet, Slayer Pest Control, Frito Lay, Pepsi , Evian Water, Banana Boat, Wet Ones, Helados Bon, Golf View Mag, Andalucía Golf Channel, Listín Diario, Mercado Magazine, Makinas Magazine, Elías Distribución, Dewards, Vitality Medical Clinic, Kola Real, Stella Artois, Generade, Cool Heaven, Electrolic.