Bahia Principe Golf invests a million dollars in the renewal of its electric vehicle fleet
3/16/22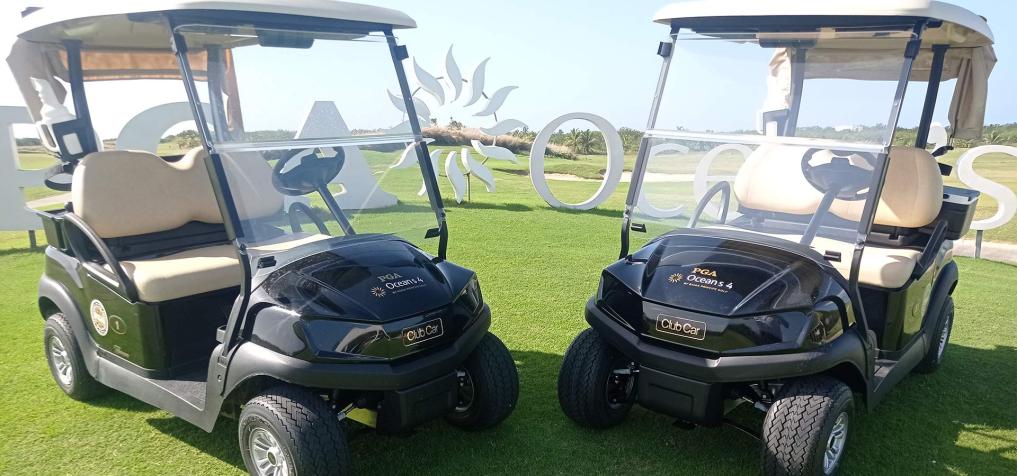 Plans to add 170 latest-generation electric buggies to its two PGA of America-accredited golf courses in the Dominican Republic and Mexico

Jaime Sitjar: "The operation is part of Grupo Piñero's commitment to innovation and to moving toward energy efficiency and decarbonization, thus contributing to the fight against climate change"
Grupo Piñero, a Spanish tourism company with more than 40 years of history, through its Bahia Principe Golf division, continues to focus on innovation in all its services. In this line, it has just allocated US$1 million for the acquisition of a new fleet of golf carts equipped with the latest technology.
Thanks to this investment, the group is adding 170 new, state-of-the-art electric buggies at its two PGA of America-accredited golf courses in the Dominican Republic and Mexico.
Jaime Sitjar, Chief Operating Officer (COO) of Bahia Principe Residences & Golf, pointed out that "The operation is part of Grupo Piñero's commitment to innovation and to moving toward energy efficiency and decarbonization, thus contributing to the fight against climate change."
Sitjar explained that "with the acquisition of this new fleet of golf carts we offer our clients a unique and innovative experience". He added that "at the same time they incorporate sustainable features that contribute to better preservation of the course surface. Thanks to this investment, we are making progress in our commitment to improve golf tourism in destinations such as Mexico and the Dominican Republic."
This operation is part of Grupo Piñero's 2021-2025 Strategic Plan, which considers innovation as one of the pillars of its strategy, being one of the key tools for improving the quality of its services and allowing it to offer, in this case, the best experience to players.
Specifically, PGA Riviera Maya Golf Club, located in Mexico, will have 90 vehicles and the PGA Ocean's 4 course in the Dominican Republic will have 80 new Tempo Electric 2021 buggies by Club Car.
Innovation and sustainability tandem at Bahia Principe Golf
The new fleet of golf carts, Tempo Electric 2021 by Club Car, is equipped with cutting-edge functionalities that contribute to offer clients a unique and innovative experience. Both the Club Car make and the Tempo Electric model represent the latest generation in electric mobility from the point of view of reliability and innovation in the golf car market.
The new fleet's vehicles allow players to keep track of the pace of play, as well as the possibility of sending the scorecard once the game is over, helping to speed up the results of tournaments by making them available in real time.
In addition, they are equipped with an integrated GPS that allows each stroke's distance to be measured and constantly monitoring conditions to offer support to the players when needed.
These vehicles integrate several features that make them one of the most sustainable models on the market. Club Car's Tempo Electric 2021 is much lighter than other buggies, so it helps to better preserve the course surface. Also, these more modern and innovative vehicles cut charging time, making for substantial energy savings.