Bahia Principe Golf at the 2019 North America Golf Tourism Convention
6/27/19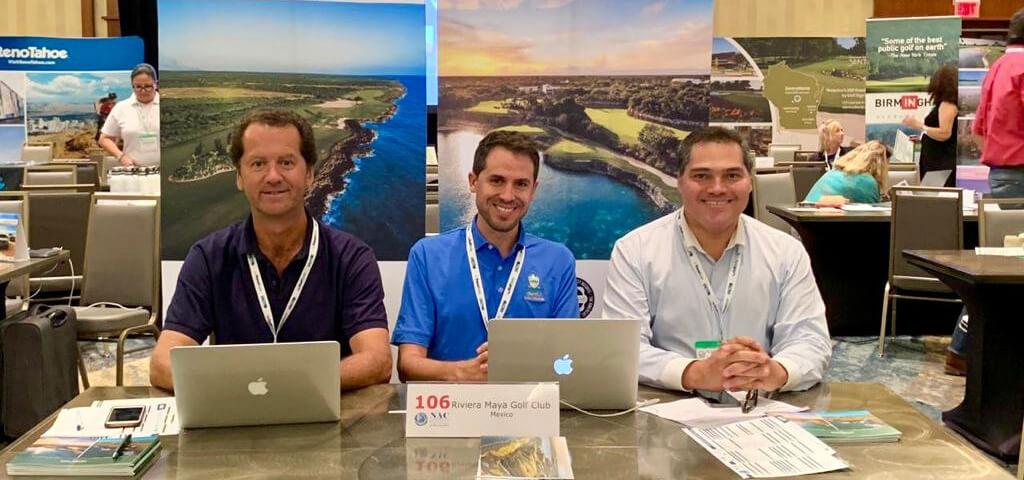 More than 140 golf and tourism organizations gathered at Horseshoe Bay Resort, in Texas, from June 23rd to the 26th. They included golf courses, golf resorts, travel agencies, tour operators and specialized tourism promotion agencies and entities from around the world.
The North America Golf Tourism Convention, an event organized by the IAGTO (International Association of Golf Tour Operators), is the perfect platform where all these organizations gather with a common goal: to buy and sell golf. This event is the best opportunity for golf courses to present themselves and offer their facilities to tour operators and agencies.
Bahia Principe Golf, with its courses in the Dominican Republic and Mexico, was present for the second time at the convention. Ocean´s 4 and Riviera Maya Golf Club took advantage of the annual event to promote themselves internationally and, among other things, contact new tour operators in the two key countries that are currently our top feeder markets, i.e. the United States and Canada. Directors Carlos de Linares, Fernando Padrón (who recently joined our team at Riviera Maya), and Arturo Marcano attended this year's edition.
The event's program is designed to make the most of the available time over three days, structured as follows:
- Golf "vendors" (in our case, the two courses), present themselves to "buyers" for two hours in a "speed-dating" style setting, with brief encounters lasting 5 minutes or less.
- Then, for the next day and a half, the "vendors" hold 15-minute meetings/interviews with their selection of tour operators, according to the interest shown.
- A golf tournament is held on the third day. The competition is open to all the convention's participants.
For more information, please visit: http://www.iagto.com/nac